For episode #5 of Mitch Nickelson Radio, Mitch got a chance to chat with Ring of Honor superstar Caprice Coleman. Caprice discusses his personal faith, that fantastic new music video with Omega Sparx, his recent match at ROH Final Battle, and his new comic book project that will release in 2015. Below is the  music video for "More Than A Conqueror," Caprice's entrance music…
To listen to the audio interview in its entirety simply click PLAY on the player to hear the full episode of Mitch Nickelson Radio. Below that are the interview highlights.
On being a role model… I believe any time you watch somebody on the screen, whether they want to be or not, they're a role model…I appreciate that and I do know that people see me as that and all I can do is try to live  my life knowing that. The moves I make aren't just about me, they involve other people as well.
His entrance music featuring Omega Sparx… I meet a lot of people where I'm at. I ended up running into Omega Sparx who is a Christian rapper in the area and he's really good. He does raps for different video games that you're playing and you don't even know it's him…I ran into him and was riding around one day and was talking about wrestling. I told him about my new theme song. He asked if I had a theme song and I said yes but it didn't have words to it. He said would you like words to it? I was like of course!
Writing the hook for "More Than A Conqueror"… So he called me that night and he asked me a couple of things about what's Caprice Coleman and a couple of my moves. He called me that night and rapped to me and I was blown away with what he had written just that night. He didn't have a hook yet and the hook that he was going for was cool, but then I was listening to his CD and he had this one line in there that was like "I'm one step bigger than large, I was made to excel." I was like that's what I want to be like! So I asked him if he minded if I wrote the hook for the song. I took that 'made to excel' thing I kind of made my own thing with it…That's basically my testimony in that as well that I was made to excel. That's what I live to do and this is the second chance that I've been given in life and I'm going to do my best with it.
The "More Than A Conqueror" music video… I was thinking about doing something cheesy on the camera or whatever, just kind of playing around. But the church I go to now, they are on this Think Big, Dream Big theories and my pastor was talking to me and he knows what I do and he brought it up. He was like, what are you doing now? And I told him about the wrestling and about how I just changed my theme song and I was like we're going to be doing this music video. I was laughing about it and he was like well why don't you use the church production crew?…The chemistry there was out of this world and we came up with the music video. That's what we came out with.
His match at Final Battle with Hanson, Jimmy Jacobs, and Mark Briscoe… (Hanson) is a  bad dude. I really enjoyed that match, even though I didn't win. But the good thing about that is everybody in that match has been in the business more than 10 years. We've been wrestling more than 10 years and trying to make a name for ourselves. Jimmy Jacobs and Mark Briscoe have definitely done that for themselves and like I said I got my break a couple of years ago. But Hanson, he's somebody that's been on the indies for a long time just like I was. Not as long as I was but long enough for me to respect where he's coming from. He has a testimony himself where he broke his back years ago and they told him he'd never walk again, let alone wrestle. So it was an honor to see somebody like him come from his background and to be able to do what he's doing now.
Goals for 2015… I'm definitely looking at the (Ring of Honor) Television Title now. I'm not oblivious to the Tag Team Titles; Cedric and I are still friends. They've put me in the ring with a some of the young guys because I do a lot of mentoring at Ring of Honor, helping them along, tagging with some of them. Of course if I had my choice I'd definitely be still tagging with Cedric but Cedric's blowing up now. He's doing phenomenal just like I knew he would.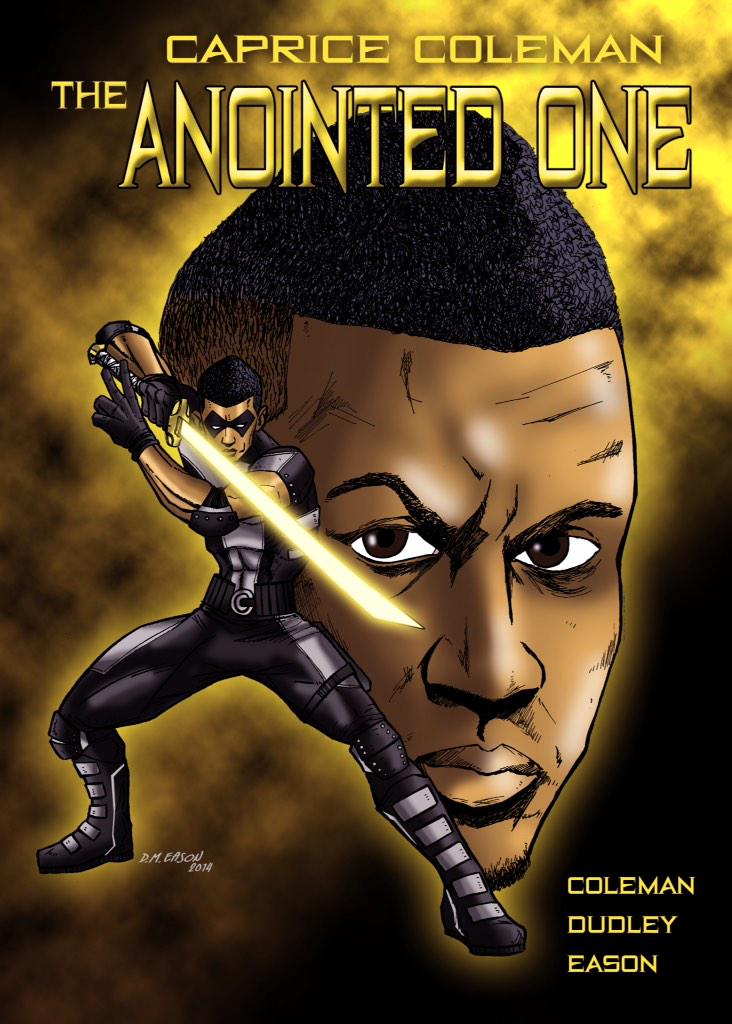 His upcoming comic book… I've been contacted by a local promotion that's doing comic books and they want to do a big promotion on me and my character to be called The Anointed One. I'm like a vigilante that's a preacher by day and a vigilante by night that's saving his church from some dealers coming in trying to destroy it….Derrick Eason, he's been doing a lot of artwork on that. If you've seen any Caprice Coleman shirts that have recently come out – the Sky Splitter shirt or the Caprice Coleman shirt – he did the art for those. The character that he made for The Anointed One is me…It's kind of like a Nightwing-type look but I have a sword and a different type of outfit of course. But it kind of puts you in the mind of Nightwing but instead of his face it's my pretty face.
---
Click HERE to listen to the entire interview as well as the rest of the podcast episode of Mitch Nickelson Radio. Jason Iannone of Cracked.com also was interviewed on the show and talked about WWE TLC(S) and NXT Takeover: R Evolution. Take care.