This Monday in Greenville, South Carolina, WWE will hold its annual Slammy Awards. Seth Green is the guest host. Without going into too much detail, here's a quick list of who I think should win. Some of the categories haven't released the nominees yet so I'll go ahead and pick who I think should win anyway. I'm getting my list of categories from Wrestling World News. There are more but usually the fringe-ier categories are pretty dumb anyway.
Superstar of the Year
Very hard one to pick. If Daniel Bryan hadn't suffered an injury then he would be a shoe in. Brock Lesnar, even though he was part of that iconic Wrestlemania moment with The Undertaker and is the current WWE World Heavyweight Champion, hasn't been around enough to fill this spot for me. Truthfully, I think I'll go with Dean Ambrose. He's a rising star that has emerged as a truly top level guy. Seth Rollins and Bray Wyatt are in the same boat but I'm going with Dean more out of personal preference than anything.
Match of the Year
While I haven't rewatched it since Wrestlemania, I think I'll go with Daniel Bryan vs. Triple H from that night. Other great matches from this year include The Shield vs. Evolution (the first one), Dean Ambrose vs. Seth Rollins (moreso the match on Raw, but their Lumberjack match was awesome), The Usos vs. Wyatts (2 out of 3 Falls, Summerslam I think), John Cena vs. Bray Wyatt (the last one that had the Wyatt Family and Usos involved), and that Fatal Fourway from the last NXT special. I'm sure I'm forgetting stuff, but those were off the top of my head.
WWE Diva of the Year
I guess AJ Lee would win this. She's helped establish Paige on the main roster and she does a marvelous job at pretending that she doesn't hear her husband's name being chanted every time she wrestles. Paige would also be a good choice and I think Nikki Bella is putting in good work, but I'm sticking with AJ.
"This is Awesome" Moment of the Year
I felt like "This is Awesome" was my feeling during the first Shield/Evolution streetfight, so I'll name that whole match as my "This is Awesome" moment.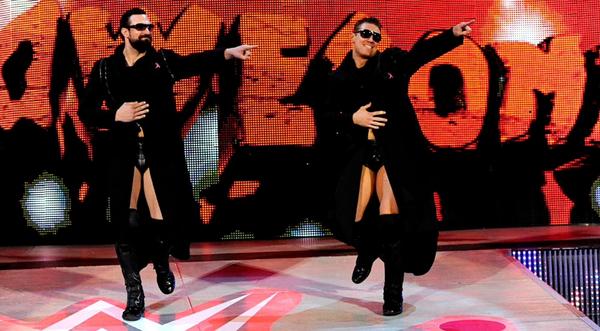 LOL Moment of the Year
Damien Sandow's method actor gimmick should win this. The Mizdow schtick is great and I'm not sure anything comes close to matching his funny. Maybe Enzo in NXT but I'm not sure he'll be considered.
Extreme Moment of the Year
The part in Hell in a Cell where Ambrose and Rollins both fell off of the Cell and landed threw tables at the same time was the most extreme thing I can remember from the past year.
WWE Tag Team of the Year
I can't find the nominees at this point, so I'll name who the top tag teams were for 2014: Gold & Stardust, The Usos, Harper & Rowan, and Miz & Mizdow. It's been a weak year for tag teams. The Rhodes or The Usos should get it so I'll pick The Usos since I'm usually hard on them. I'll throw them a bone.
"Tell Me You Didn't Just Say That" Insult of the Year
Do podcasts count? Punk calling Ryback "The Steroid Guy" was a big burn. Although Ryback did handle it about as classy as he could have.
Hashtag of the Year
#Bluetista
Rivalry of the Year
I did look up what was nominated for this and out of the list of five I'll name The Shield vs. Evolution, Daniel Bryan vs. The Authority, and Dean Ambrose vs. Seth Rollins as the top 3. I'll give the nod to Bryan vs. The Authority because it felt like the most complete story, ending with great wrestling at Wrestlemania 30.
Double-Cross of the Year
This is easy. Seth Rollins betraying The Shield is the winner. Like most people I would've picked Dean Ambrose to go heel on his brothers. Not only was this a shocker but it worked out perfectly. Good call, WWE.
NXT Superstar of the Year
NXT has been a great product. Sami Zayn should win this but that's not to undersell the quality of work put in by countless others.
Raw Guest Star of the Year
Truthfully, I don't even remember some of these nominees. When was Kevin Hart on? I'll pick Hugh Jackman though, simply because I found Damien Sandow in a Magneto costume to be mildly funny.
Tweet It! Best Twitter Handle or Social Champion
I know that Ryback isn't everybody's favorite wrestler after the comments by a certain Straight Edge former wrestler, but the man is hilarious online. He also owns and very often plays with his own action figures.
A more complete list can be found on Wikipedia and of course you can go vote at WWE.com. Just don't vote for The Rosebuds as the Best Faction. You're better than that.
---
Before you leave, did you catch my most recent edition of my podcast, Mitch Nickelson Radio? I got to talk NXT with Brandon Lasher and we discussed the upcoming Takeover: R Evolution event. Check out by clicking the PLAY button below.