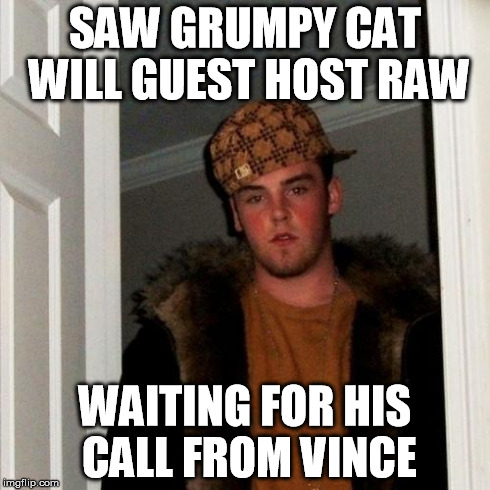 Has WWE lost their minds? Sorry to be so negative, but here's a slightly disturbing press release regarding next week's Raw…
STAMFORD, Conn., November 10, 2014 – Internet sensation Grumpy Cat will guest star on WWE's flagship program, Monday Night Raw, Monday, November 17 at 8/7C on the USA Network.

Grumpy Cat has become a pop-culture phenomenon and currently boasts 7 million Facebook fans, 500,000 Instagram followers and her YouTube page has received 29 million video views.

"WWE's mission is to put smiles on people's faces – and now we will attempt the same with Grumpy Cat," said WWE Chief Brand Officer, Stephanie McMahon. "We are going to do everything in our power to make sure she has a good time."
I'm not sure if I have the words to express my disdain for this decision, so instead I'll pull quotes from Twitter folks who are equally annoyed by this…
I understand that WWE wants to bring in stars from other realms of pop culture, but this is doomed for failure. Why not try to get a professional athlete to come on the show? Or how about that Hugh Jackman guy? Wolverine always does a good job when he's in front of a wrestling audience. Grumpy cat is a dumb internet meme, that's it. Was Scumbag Steve busy next Monday or something?
So what do you think? This is pretty much guaranteed to get a strong negative reaction, right? Let me know your thoughts in the comment section below.
---
It's hard to believe that I actually made this news post. Hopefully WWE has a change of heart. But until then, don't forget to check me out on Twitter @MitchNickelson. Also, check out the most recent edition of my podcast, SBP Wrestling, while you're at it. Simply push Play below and you won't regret it.