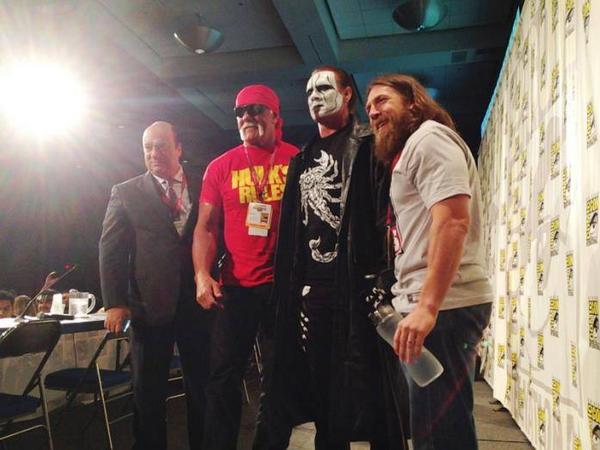 by: Mitch Nickelson
Sting has officially aligned with WWE and all is right with the universe. He's making amazing promotional videos for their video games. He's appearing alongside WWE favorites like Hulk Hogan and Daniel Bryan at San Diego Comic-Con to promote his new action figure. The only thing missing in Sting's long overdue arrival to the biggest wrestling company on the planet is to have an actual wrestling match. Will fans ever find themselves treated to such a sight?
Wrestling's past and wrestling's future have made comments, weighing in on Sting's wrestling prospects in WWE. Hulk Hogan and Roman Reigns have both recently addressed this issue with differing outlooks on the issue. We'll look at Hogan and his words first, which are way more positive. An interview he gave with Yahoo Sports is where we find these comments.
Yahoo Sports: Do you think we will see Sting in a WWE ring?

Hulk Hogan: Sting and I last talked when he made his appearance at Comic-Con and they announced he was part of the WWE Universe and that his dolls were coming out. We had a long talk on the plane and I said, "Brother, you have got to wrestle. I mean, I don't care what kind of deal you signed, I said you can still go. You've never made a mark in the WWE.

I was begging you to come here in the '80s and the '90s and now you just show up out of nowhere. You've got to wrestle." So, I hope it happens really soon. And I think by the time I beat on him for the three hours from Los Angeles to Dallas that I think we were on the same page and he knows that he needs to get in that ring and leave his mark in the WWE and make a huge statement. I hope it happens sooner than later.
Hulk Hogan had Sting's ear for three hours on a plane ride and told him that he has to make a match happen. I think many nostalgic fans of Sting will agree with the Hulkster on this. WWE can give him the platform to have one final match (or series of matches) to cement a career that has been legendary. Let the man end on a high note with a huge platform (like Wrestlemania) and a iconic opponent (like The Undertaker if he's healthy). Hogan seems confident that he helped sway Sting's opinion toward a likely match. As a Sting fan who would love this kind of ending for him (coupled with a Hall of Fame induction), I can only hope.
While Hulk Hogan was very favorable toward a Sting match, Roman Reigns wasn't quite so giddy about it. In an interview with a CBS affiliate local to Los Angeles, Roman had offered the following comments…
CBSLA: Will Sting wrestle in WWE?

Roman Reigns: I'd like to say I have the answer. But that's what makes the WWE so appealing is that you just never know. There's always such a mysterious element behind everything we do. For his sake, if he steps in the ring, I hope he stays aways from me. I'm not the guy to run into these days. I think it's pretty cool just to be on the panel with him. Just to chat and BS a little bit with all those guys. It's going to be a good time and anything can happen. But if he steps in the ring, he's a seasoned veteran, he knows what he's doing. But there's a whole bunch of youngins on this roster that are hungry and we're not trying to give any space for anybody else.
It's a little difficult deciding how to take Roman's comments here. He initially says that he hopes Sting stays away from him if he steps into a WWE ring with him. Readers can naturally assume this is done 'in character' and he's just building heat for the chance of ever working with Sting. Then he ends the comments talking about the reality of the roster being full of younger workers who are "not trying to give any space for anybody else." It might be a little bit of a reach, but is Roman offering a real threat here?
Sting returning would be big money for whatever event it happens at, but a Sting match would be a spot on a card that is not going to a worker still hungry to carve out his own legacy. Speculation about CM Punk's departure earlier this year have been commonly attributed (among other things) to the frustration of returning legends who are booked in prominent spots on big money cards…does Roman feel this way as well?
While this author is very excited about the possibility of Sting in a WWE ring, maybe some on the roster do not share that sentiment. What do you think? Should a returning Sting be viewed with contempt? Is a big name from the past going to translate into WWE Network signups (only 9.99!) and is, therefore, best for business? Personally, I'm all for a Sting return. Comment below and let me know if you share in my excitement or not. And after you do that, look me up on twitter and follow me @MitchNickelson.